Achieve a beautiful, glowing, smile with teeth whitening at Total Dentistry in Cincinnati.
If you're looking to upgrade your smile to "Hollywood" white, you're not alone. In 2015, the American Academy of Cosmetic Dentistry reported $1.4 billion dollars was spent on teeth whitening products. Tooth whitening has become the "go-to" cosmetic treatment for good reason. It's a simple, relatively inexpensive way to get big results.
Causes of stained teeth
Teeth are made up of a hard, outer layer, called enamel. Enamel is porous, so over time staining foods and drinks, such as coffee, tea, berries, etc., will penetrate the enamel working down into the teeth where they can't be brushed away. While the stains are harmless, they darken teeth, which many people find unappealing.
Teeth whitening to the rescue!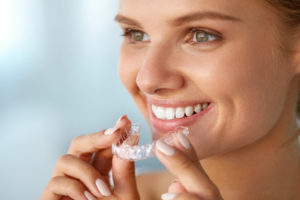 To remove these unsightly stains, many people turn to tooth whitening products. Some choose to use solutions readily available at their local drugstore, while others visit their dentist for solutions.
While most all "over-the-counter" whitening products will whiten at least a few shades, they are very limited in what they can do. Whitening toothpastes do not penetrate a tooth's enamel, so they simply remove surface stains. Whitening strips do not keep saliva off the whitening gel, lessening the gels effectiveness.
The best results are achieved by seeing a licensed dentist who can make custom-fitted trays and apply strong whitening gel.
Don't wait to get the smile you've been dreaming about!
Schedule an appointment in our Cincinnati dental office today to find out more about teeth whitening. Call us today at (513) 245-2200.