CEREC® Same-Day Crowns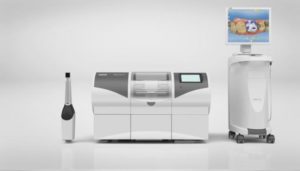 Get your new crown or onlay in a single visit at our Cincinnati dental office.
One appointment. No gooey impressions. No temporary to wear.
Chances are at some point in your life you are going to need to fix a tooth that is broken or decayed. We're hard on our teeth and many people have one or two (or more!) metal fillings in their mouth. These fillings are made of materials that can wear out, go bad, weaken the tooth or get additional decay around them. With a CEREC same day crown or onlay**, Dr. Omeltschenko can fix broken or decayed teeth and restore them to their natural beauty and strength – in a single visit.
** An onlay is similar to a crown, but leaves more of the tooth structure intact. Onlays are used when a tooth has a problem that is too big to fix with a filling, but does not require the full-coverage of a crown. The steps to fix a tooth with an onlay versus a crown are identical.
​
Restore your broken or badly decayed tooth in one visit with CEREC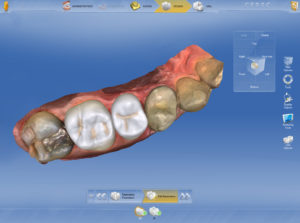 ​Dr. Omeltschenko is able to offer single visit crowns or onlays to his Cincinnati patients with the use of a CEREC machine. A CEREC machine utilizes CAD/CAM technology to make porcelain tooth restorations. It is comprised of a 3D scanner, a computer, and a milling unit.
After your tooth is prepped for a crown or onlay, Dr. Omeltschenko will use the 3D scanner to take a digital "impression" of your prepped tooth.
​ The digital impression is used to design you a new, custom-fitted restoration on a computer, and that design is sent to a milling chamber, where lasers shape a block of porcelain into your new restoration. Then the crown or onlay is fired in an oven for added durability and bonded to your prepped tooth – all at the same visit.
And the best part is, it's pretty cool to watch your new crown or onlay being designed on the screen right before your eyes!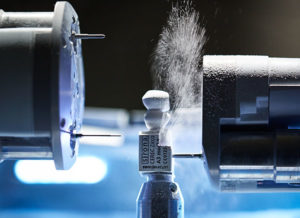 ​Experience the comfort, convenience, and durability of a single visit crown or onlay
​Traditionally, crowns and onlays have been made in a dental lab. This requires a dentist to take a gooey impression and send that off to a lab to be made into a restoration. It takes about 2 weeks for the lab to create the restoration, so the patient has to wear a temporary restoration while waiting. Then the patient has to return, get numb again, and have the restoration bonded into their mouth.
This process is streamlined with CEREC single visit restorations:
Comfortable – CEREC crowns or onlays do not require two-visits, so you only have to get numb once. Also, the "impression" is taken with a 3D scanner, not gooey impression trays. This also means you don't have to wear an unsightly temporary while you're waiting for your restoration to be made.
Convenient – Your restoration will be completed in one visit, so you won't have to take extra time off work or spend more on gas to drive here twice.
Durable – Your restoration will be made from a durable block of porcelain and "fired" in an oven to increase strength. With proper care and maintenance, your restoration will last for years to come.
​​Paying for your single visit crown or onlay
​You don't even have to pay extra for the comfort and convenience of a CEREC crown or onlay – they cost the same as one made in a lab. To see a list of the fees at our Cincinnati dental office, visit our Total Dentistry Price List page.
For patients with insurance, we will be happy to determine if your policy contributes towards crowns and onlays, and if so, how much. We find that most insurance plans cover 50% of the cost of a crown or onlay, but be aware there are ALWAYS exceptions to the rule.
For patients without insurance, we encourage you to join our Dental Savings Plan. This plan offers free exams and x-rays, as well as 10% off our other dental services, including crowns and onlays.
We believe that everyone deserves a beautiful smile…today! Patients can get started on treatment immediately by taking advantage of one of our monthly payment plans. Information on setting up a monthly payment plan can be found on our Paying for Treatment page.
​Choose the Cincinnati dental office of Dr. Omeltschenko
​We make the process of getting a single visit crown or onlay simple and convenient.
Dr. Omeltschenko is one of the most highly trained dentists in Cincinnati utilizing a CEREC machine. He has been using this technology in his Cincinnati dental office for over 17 years and was one of the first dentist's in the city to offer this to his patients.
​We keep your visits to a minimum (less time off work!) by competing the entire procedure in one visit.
​We are conveniently located in Northwest Cincinnati, making us easily accessible to those living in Colerain, White Oak, Monfort Heights, Cheviot, College Hill, Finneytown, Northside, Wyoming and more.
​We offer numerous payment options, will help patients with insurance maximize their coverage, and offer discounts on crowns and onlays to our Dental Savings Plan members.
​If you live in Cincinnati and need of a crown or onlay you will be in good hands at Total Dentistry. Don't wait any longer to start your treatment, call us today at (513) 245-2200!