What are dental implants?
Dental implants are titanium posts that function like the root of the tooth.  Implants can be used to replace missing teeth or to secure a loose denture.
What are the benefits of dental implants?
Until recently, the solutions for those with missing teeth were, admittedly, pretty undesirable.  Bridges require natural teeth to be ground down to anchor the bridge to the adjacent teeth.  Partials are bulky and no one likes wearing them.  Both options were unpopular with patients and dentists alike.  Then, advances in dentistry brought in the era of dental implants to replace missing teeth.  Implants are the preferred method for replacing missing teeth because they offer numerous benefits over partials and bridges: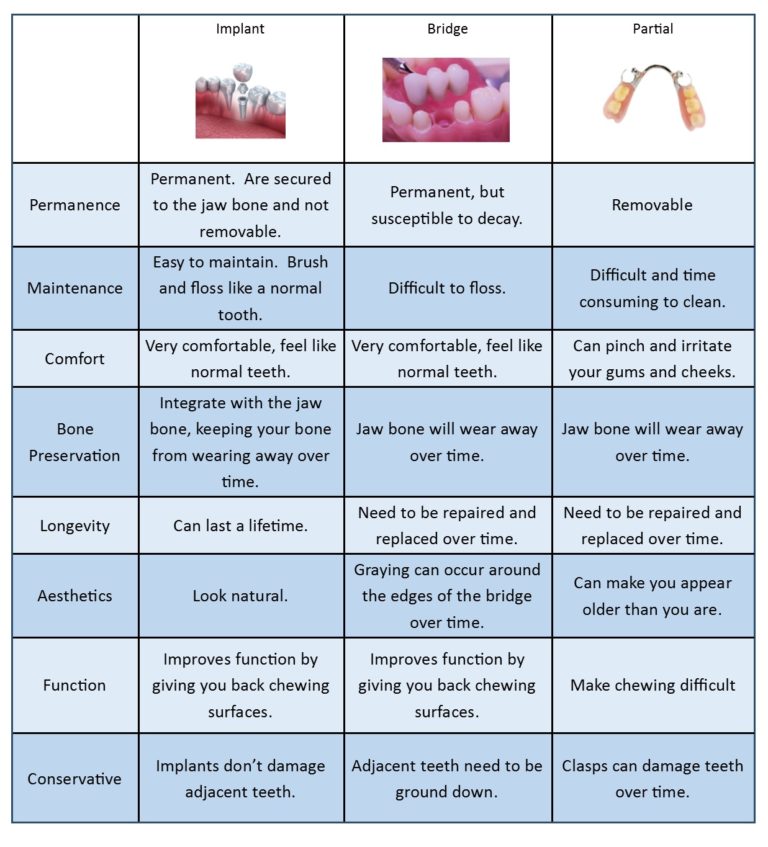 Who is a candidate for dental implants?
Most people are good candidates for dental implants.  Specifically you should:
Be in generally good health
Be free of gum disease
Have adequate bone in your jaw to place the implant into (Bone grafts and sinus lifts can be performed to deal with bone loss.)
There are a few conditions that MAY limit your ability to have a dental implant and/or limit the success of the implant integrating into your jaw bone.  They are:
Heavy smoking
Uncontrolled diabetes or other chronic diseases
Pregnancy
A jawbone that is not fully developed (as in a child that is still growing)
Severe grinding or clenching teeth
What are the steps of the dental implant procedure?
After meeting with you to discuss your goals and completing an examination to determine treatment options, Dr. Omeltschenko will design a treatment approach tailored to your needs.  While each patient is unique, typically the implant process takes several visits and anywhere from three to six months to complete.
Here's what the process usually looks like:
First Appointment: Meet with Dr. Omeltschenko to have an examination and discuss your treatment options.  This appointment will last approximately 1 hour.
Second Appointment: Remove your damaged tooth (if it's still present) and place the implant "screw" into your jaw bone.  This appointment will last approximately 1    hour and will involve making a small incision where the implant will be placed, opening up the gum to expose the bone beneath, drilling a small into the bone and placing the implant post into the hole.  The gum will then be sutured closed. Dr. Omeltschenko will make sure that you are comfortable throughout the procedure by explaining all the steps to you and using local anesthetics to get you completely numb.
Third Appointment: Return in one week to check the healing of the implant.  This appointment will last approximately 15 minutes and will involve a visual examination of the site and removal of the sutures.
Fourth Appointment: Return in three to six months (depending on how long it takes for the implant to grow and bind to your jaw bone) to have the abutment and crown placed on the implant.  This appointment will last approximately 2 hours.  Dr. Omeltschenko will design the abutment and crown right in our Cincinnati dental office using our state-of-the-art CEREC machine.  This allows him to get a perfect fit and means your don't have to wait for a lab to make your crown!
What can I expect after my dental implant surgery?
Many patients report resuming normal activities as soon as their numbness has worn off.  For your comfort and to facilitate healing, it is best you eat soft foods for up to a week after the screw is placed into the bone.  Other common discomforts that are associated with the placement of the implant screw are:
Discomfort around the implant area
Swelling and/or bruising
Minor bleeding
To see a complete list of how to care for your dental implant after placement, visit our Dental Implant Post Op Instructions page.
What are the risks of dental implant surgery?
The risks associated with dental implants are rare and almost always minor.  However there are always possible risks involved with surgery, drugs, and anesthesia.  The risks include:
Pain, swelling and/or infection
Numbness of the lip, tongue, chin, cheek or teeth
Inflammation of a vein
Injury to other teeth
Bone fractures
Sinus penetration
Allergic reaction to drugs or medications used
What is the cost of a dental implant at your Cincinnati dental office?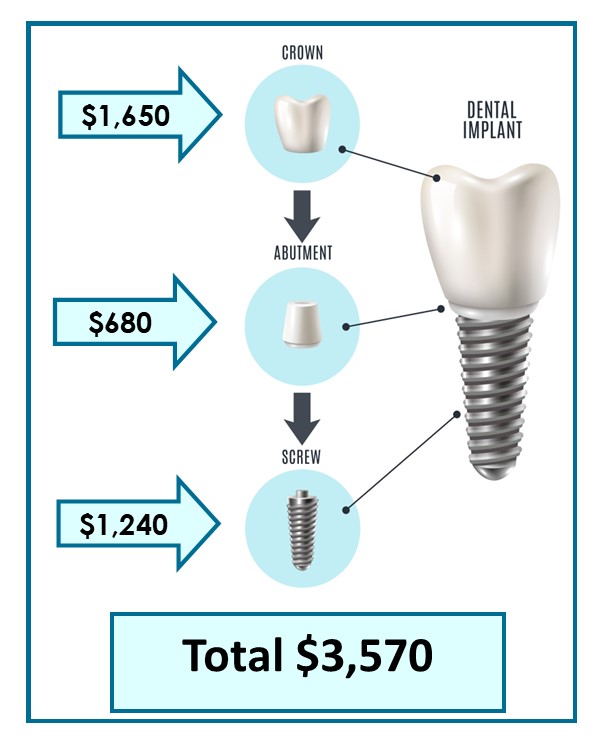 The starting price for replacing a missing tooth with an implant at our Cincinnati dental office is $3,570.00.  When replacing a missing tooth with an implant, three parts are needed:
The screw (or "post") which is placed into the jaw bone.
The abutment which connects the screw to the crown.
The crown which will be custom made to match your other teeth.
For many patients, this is all they need to replace a missing tooth with an implant.  For patients with bone loss, additional procedures may be needed including a bone graft or a sinus lift.   If Dr. Omeltschenko determines you have bone loss, he will discuss any additional procedures you will need and the cost.
Why should I choose the Cincinnati dental office of Dr. Omeltschenko for my dental implant?
Quite simply, because we make the process of getting a dental implant simple and convenient.
We keep your costs down by completing the entire procedure in our Cincinnati office so you don't have to go to more expensive specialists.
We are conveniently located in Northwest Cincinnati, making us easily accessible to those living in Colerain, White Oak, Monfort Heights, Cheviot, College Hill, Finneytown, Northside, Wyoming and more.
We keep your appointments to a minimum by making the abutment and crown in office in a single visit using our CEREC machine.
We offer numerous payment options and discounts in dental implants to our Dental Savings Plan members.
If you live in Cincinnati and are in need of a dental implant you will be in good hands at Total Dentistry.  Don't wait any longer to start your treatment, call us today at (513) 245-2200!