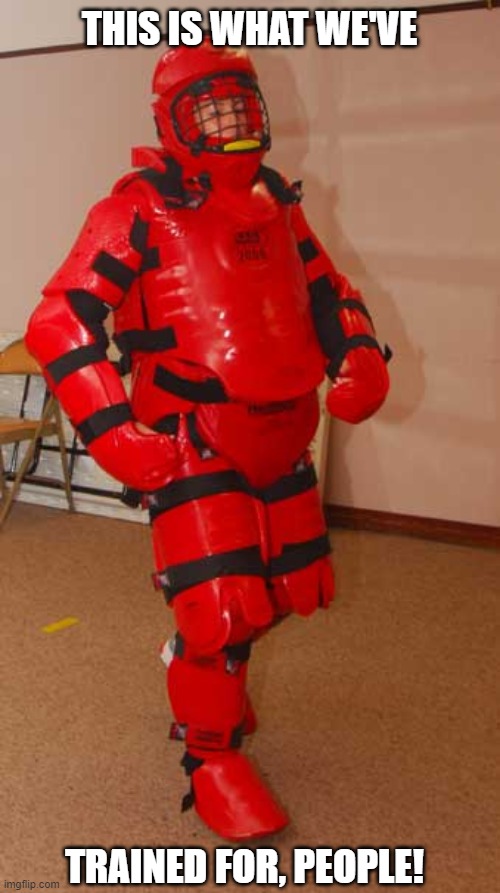 While COVID-19 is nothing to take lightly, I couldn't resist this meme when outlining the measures we are taking to keep our patients and ourselves safe during this time. You see, infection control is ingrained into every dental professional from the start of our training. It's a core part of our curriculum and we are required to take yearly refreshers to stay sharp and up-to-date. We know how to analyze risks and act accordingly. So, yeah, this is what we've trained for, people!
With that said, as a novel virus, COVID-19 has brought with it new challenges and new recommendations for infection control. We have taken all the recommendations from the CDC, OSHA, and ADA and worked tirelessly to implement them into our office.
How we will keep sick people out of the office:
Screen all staff for illness each morning.
Pre-screen patients for illness 1 day before their appointment.
Screen patients for illness upon arrival.
Only the patient (and if necessary, a parent/driver/interpreter) are to enter the clinic. Friends, family members or others can wait in the car.
The physical changes we made to keep the office clean and sterilized:
Reme Halo central air purifier system installed.
Three portable air purifiers placed throughout office.
"Dryshield" systems installed to prevent dissemination of aerosols during procedures.
Plexiglass "Sneeze Guards" placed at front desk.
Frequent wiping of all non-clinical areas with CDC approved disinfectants.
Maintain current standards of disinfecting of operatories after procedures.
Magazines and toys have been removed from reception area.
How we will maintain social distancing:
Patients will be scheduled one-at-a-time for each provider. (This means there will be limited appointment times available.)
Patients will wait in their car until their appointment time.
Patients will be asked to complete office forms (consent forms/financial arrangements) digitally in the comfort of their own home, with staff assistance via phone if needed.
Patients to not congregate before/after their appointment to chat with staff. We love you, we really do, but you've got to go after your appointment!
No handshaking or physical contact (other than treatment.)
Post-treatment forms (post-op instructions, receipts, etc.) to be emailed whenever possible.
What we ask of the patient to help keep a clean work environment:
Wash hands before and after your appointment.
Wear a mask at all times you are in the office, except during treatment.
Rinse with Peroxyl (or a 1% Hydrogen Peroxide rinse) to minimize viral load during treatment.
The measures we will take to keep ourselves safe:
Frequent hand washing
Wearing jackets, face shields, masks, gloves and hair coverings.
Thank you for trusting us to provide you with your oral health needs. We appreciate your cooperation in adhering to these new protocols and we look forward to seeing you at your next appointment!
Dr. Christopher Omeltschenko and Team